News
Spring Tea Gathering
In Honor of the Feature Exhibition; Hidden Treasures from a Merchant's Storehouse: The Hiromi Collection, a Legacy of Elegant Living
The event has been ended. Thank you for your attending.
The feature exhibition Hidden Treasures from a Merchant's Storehouse: The Hiromi Collection, a Legacy of Elegant Living commemorates a generous gift of artwork from the Hiromi family. In honor of this gift, the Kyoto National Museum is hosting a Spring Tea Gathering using tea utensils originally owned by the Hiromi family.
The gathering will be held in the museum's teahouse Tan'an. Whipped green matcha tea and special sweets chosen by the Hiromi family will be served on this occasion. Come and enjoy the tea ceremony with tea, sweets, and tea utensils from the collection of this established Osaka merchant family.
When:

10 AM – 3 PM Daily
Saturday, March 10 – Sunday, March 11, 2018

*Maximum 100 guests per day. Tea service will conclude after this maximum has been reached. We apologize in advance for any inconvenience.

Where:

Tan'an Teahouse (located on the north side of the Kyoto National Museum's East Garden)

Fee:

500 yen

*Please purchase a ticket at the teahouse entrance.
*Admission to the tea gathering is limited to guests who have already purchased museum admission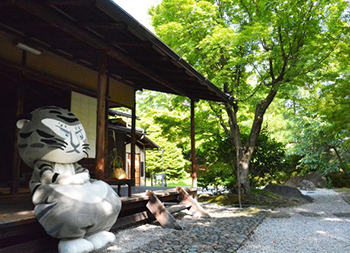 Enjoy a bowl of tea while gazing over the spring garden.
Related links
Feature Exhibition; Hidden Treasures from a Merchant's Storehouse: The Hiromi Collection, a Legacy of Elegant Living
Updated:Feb.28, 2018