News
ICOM Day, May 18, 2019
The event has ended. Thank you for your interest.
The International Council of Museums (ICOM) has designated May 18 "ICOM Day." Every year on this day, ICOM, the worldwide organization of museums and museum professionals, promotes its role in protecting tangible and intangible cultural heritage, as well as natural cultural heritage.

On Saturday, May 18, in celebration of ICOM Day 2019, the Kyoto National Museum will be giving away a special set of Torarin-themed gifts to the museum's first 200 visitors. Torarin, Kyoto National Museum's mascot (pictured below), comes from a painting in the museum's collection—"Bamboo and Tiger" (Taketorazu ), by the Rinpa school painter Ogata Kōrin (1658–1716).

This special set of gifts is offered in anticipation of the ICOM Conference (September 1–7, 2019), to be hosted this fall in Kyoto.
We hope you will visit the museum on this special occasion!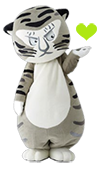 Torarin
Updated:May 9, 2019