News
Publication Announcement
Catalogue Title:
Masterworks of the Kyoto National Museum: Temple and Shrine Treasures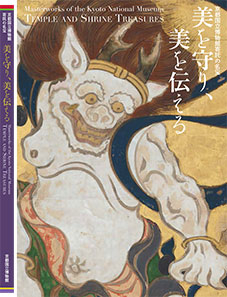 ¥1,900 p-252

Today the Kyoto National Museum houses approximately 14,500 works (some of which are sets of multiple objects); 6,400 of these works fall into the category of long-term loans. This catalogue features 139 artworks of the latter category organized thematically and illustrated with color plates. The entries are in Japanese, English, Chinese, and Korean.

To purchase the exhibition catalogue, please contact the Museum Shop (South Gate, Heisei Chishinkan Wing).

Please note: This catalogue is not the accompanying catalogue for the Feature Exhibition in Celebration of ICOM Kyoto 2019 Masterworks of the Kyoto National Museum: Temple and Shrine Treasures. The artworks on display in the galleries may differ from objects featured in the catalogue.
Updated:August 16, 2019