News
Spring Biwa and Dance Concert, February 28, 2021
The event has been ended. Thank you for your attending.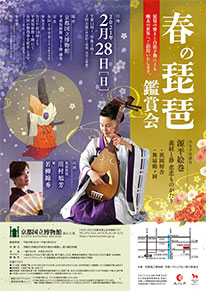 Join us for a concert of the biwa (Japanese lute) accompanied by Shirabyōshi dancing.
(commentary on the performance will be provided in Japanese)
Date and time:

Sunday, February 28, 2021
Session 1: 11:00 a.m.–12:00 a.m. (doors open at 10:30 a.m.)
Session 2: 2:00 p.m.–3:00 p.m.(doors open at 1:30 p.m.)
* Two performances of the same program

Program:

"Genpei Emaki: The Tragic Love Story of Yoshitsune and Shizuka"
——"Gion Shōja," "Maiōgi Tsurugaoka"

Performers:

(Chikuzen Biwa) Kawamura Kyokuhō, (Mai/Dance) Wakayagi Kinshū

Location:

Kyoto National Museum, Heisei Chishinkan Wing, Lecture Theater

Capacity:

100 people per performance
* Theater to be emptied between performances

How to attend:

Numbered tickets will be distributed for each performance on the 1st floor of the Heisei Chishinkan starting at 10:00 a.m. on the day of the performance.
* One ticket per person
* Distribution will end as soon as capacity is reached.

Participation fee:

Free
* However, visitors must pay for museum admission on the day of the performances.

Note:

* Please refrain from filming or photographing during the performance.
Updated:December 23, 2020