News
New Year's Gagaku Concert, January 9, 2022
This event has concluded. Thank you for attending.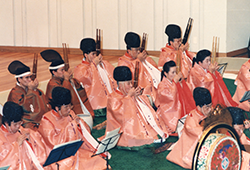 Join us to celebrate the New Year with a performance of traditional Japanese court music presented with commentary in Japanese.
Date and time:

Sunday, January 9, 2022
Session 1: 11:00 a.m. (doors open at 10:30 a.m.)
Session 2: 2:00 p.m. (doors open at 1:30 p.m.)
* Two performances of the same program. Each lasts approx. 40 minutes.
* Theater to be emptied between performances

Program:

Hyōjō Netori, Etenraku, Kashin, Bairo, Keitoku

Program Commentary (in Japanese) :

Ue Akihiko (Former Chief Conductor, Music Department of the Board of Ceremonies, Imperial Household Agency)

Performed by:

Kyoto Shichiku-kai (String and Bamboo Society)

Location:

Heisei Chishinkan Lecture Theater, Kyoto National Museum

Capacity:

100 people per performance
* Non-reserved seating

How to attend:

Numbered tickets will be distributed for each performance in the museum lobby on the 1st floor of the Heisei Chishinkan starting at 10 a.m. on the day of the performance.
* One ticket per person. Distribution will end as soon as capacity is reached.

Participation fee:

Free
* Visitors must pay for museum admission on the day of the performances.

Note:

Please refrain from filming or photographing the performance.
Updated:November 26, 2021