News
Collaborative Event in the Meiji Kotokan
In Conjunction with the Special Exhibition Swords of Kyoto
During the special exhibition Swords of Kyoto: Master Craftsmanship from an Elegant Culture, the historic red-brick Meiji Kotokan is holding a collaborative event with the online web browser game Touken Ranbu and a shop for related goods. The event features life-size panels of the game's Touken Danshi (young male characters who embody famous historical swords—many included in the Swords of Kyoto exhibition). A replica of the meibutsu sword Honebami Tōshirō by contemporary master swordsmith Miyairi Norihiro (born 1954) is also on view. Photos are allowed inside the Meiji Kotokan for this event. Come take advantage of this special opportunity to see inside the Kyoto National Museum's original museum building, opened in 1897 and now designated as an Important Cultural Property of Japan.
When:

September 29 –November 25 (on days that the museum is open)
Entrance to the Meiji Kotokan will end 30 minutes before the museum closes each day.

Where:

Meiji Kotokan, Kyoto National Museum

How much:

Free with same-day exhibition ticket

Please note:

- Visitor numbers are being limited to control crowding. You may be asked to wait in line to enter.
- There are no toilets or coin lockers available inside the Meiji Kotokan.
- Photography is allowed inside the building. To control crowding, please limit your photos to one per exhibit.
- Please proceed in one direction without doubling back or stopping for a long time in any one place.
- Please do not touch the pillars, walls, or exhibits.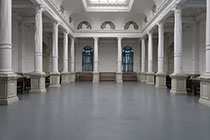 Central Gallery of the Meiji Kotokan Hall
Related links
Special Exhibition; Swords of Kyoto: Master Craftsmanship from an Elegant Culture
Meiji Kotokan Hall
Updated:September 26, 2018