News
<Cancelled> Tan'an Teahouse Spring Tea Gathering, March 21 and 22, 2020
This event has been cancelled based on measures instituted by the Japanese government to contain the spread of the coronavirus. We appreciate your understanding.
This tea gathering will feature beautiful antique tea utensils from the Hiromi family, who donated over a thousand works to the museum's collection. Come and enjoy a bowl of tea and a tea sweet in the museum's historic teahouse Tan'an.
Host:

Omuro Mizue (Omotesenke)

When:

Saturday, March 21 and Sunday, March 22, 2020
1st seating 9:45–10:15
2nd seating 10:20–10:50
3rd seating 10:55–11:25
4th seating 11:30–12:00
5th seating 12:30–13:00
6th seating 13:05–13:35
7th seating 13:40–14:10
8th seating 14:15–14:45
9th seating 14:50–15:20



Where:

Kyoto National Museum Tan'an Teahouse (East Garden)

Capacity:

15 people per seating

Cost:

1,000 yen (includes matcha green tea and a handmade tea sweet, but does not include museum admission)


How to register:

We request that you register in advance to guarantee admission. Please send an email to event_kyohaku++nich.go.jp (replace "++" with "@") with the following information:
1) name, 2) name of event, 3) date and seating you would like to attend, 4) number of people, 5) group representative (if applicable), and 6) daytime phone number.
If you do not hear back from the museum, please call the Kyoto National Museum Department of Programs at 075-531-7504 (weekdays 10:00 a.m.–12:00 p.m. and 1:00 p.m.–5:00 p.m.) to confirm.

Application period

February 1–March 16, 2020

How to pay:

Pay at the entrance to the Tan'an Teahouse.

Cancellations:

Kindly contact the museum if you need to cancel.


Same-day Tickets:

If there are spaces available, same day tickets may be purchased on site at the Tan'an Teahouse.

Photography:

You are welcome to take photos outside, but we kindly ask you to refrain from taking photographs inside the Tan'an Teahouse.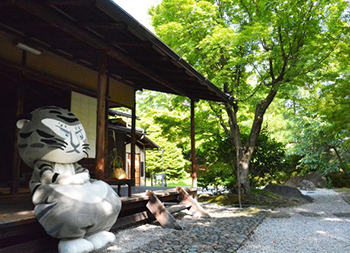 Enjoy a bowl of tea while gazing over the spring garden.
Updated:January 29, 2020