News
Announcement of Temporary Museum Closure, April 25–May 11, 2021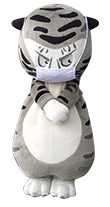 In accordance with the government directives, and in order to prevent further spread of the Coronavirus, the Kyoto National Museum will temporarily close from April 25 (Sunday) to May 11 (Tuesday), 2021.

The museum will reopen from May 12 (Wednesday), 2021.

We apologize for any inconvenience that this closure may cause. Thank you for your understanding.
2. Other Notices:
During this period, the Information at the South Gate, the Museum Shop, and the Museum Coffee Shop will also be closed.
Updated:April 24, 2021