News
Announcement of Museum Reopening, May 12, 2021–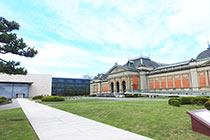 The museum will reopen from May 12 (Wednesday), 2021, following a temporary closure from April 25 (Sunday) to May 11 (Tuesday) in accordance with government directives. The museum will continue to follow protocols to prevent the spread of the coronavirus.
Exhibition
Museum Shop, Café, and Restaurant
The Benrido Museum Shop and Maeda Coffee Café will be open from May 12, 2021.
The Muses Restaurant will be open from May 12 to 16, 2021.
Updated:May 11, 2021