News
Special Exhibition Rescheduled.
Kannon Worship: The Thirty-three Pilgrimage Sites of Western Japan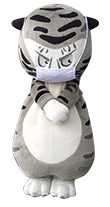 The special exhibition Kannon Worship: The Thirty-three Pilgrimage Sites of Western Japan has been rescheduled to the dates listed below as part of our efforts to contain the spread of COVID-19.
These new exhibition dates nevertheless remain subject to cancellation or change depending on the status of COVID-19 infections going forward. Updates will be posted on this website and on the museum's official Twitter feed, so please check for the latest information before visiting the museum in person. We apologize for any inconvenience. Thank you for your cooperation and understanding during this difficult time.
New Exhibition Dates
July 23 – September 13, 2020
* Closed Mondays, but open on the public holiday Monday, August 10.
* Hours: 9:30 a.m. – 6:00 p.m. (admission until 5:30 p.m.). Evening hours on Friday and Saturday have been canceled.
Advance Tickets
Visitors who have already purchased advance tickets may use them for admission during the new exhibition period.
Updated:May 8, 2020