Special Exhibition Kanshin-ji and Kongō-ji, Two Temples of Kawachinagano: Esoteric Buddhist Art and the Legacy of the Southern Court
General Information
Advanced ticket reservations for this exhibition are not required. Exhibition dates are also subject to change. Updated information will be posted on this website and on the museum's official Twitter feed, so please check the latest information before visiting the museum in person.
Exhibition Title

Special Exhibition
Kanshin-ji and Kongō-ji, Two Temples of Kawachinagano: Esoteric Buddhist Art and the Legacy of the Southern Court
Period

July 30–September 11, 2022
The exhibition has two installations:
Part I: July 30–August 21, 2022
Part II: August 23–September 11, 2022
Venue

Kyoto National Museum, Heisei Chishinkan Wing (2F, 1F)
Closed

Mondays
Special Exhibition Hours

Tuesday - Thursday, Sunday: 9:00 a.m.-5:30 p.m. (Entrance Until 5:00 p.m.)
Friday, Saturday: 9:00 a.m. - 8:00 p.m. (Entrance until 7:30 p.m.)
Special Exhibition Admission

| | |
| --- | --- |
| Adult | 1,200 yen |
| University Student | 600 yen |
| High School Student | 300 yen |

Admission fee includes admission to all galleries in the Heisei Chishinkan Wing.
Please show student ID for student admission.
Admission is free for junior high school students and other youths age 0–15, visitors with disabilities and one caretaker. Please show ID.
Admission is reduced by 400 yen for Campus Members (including faculty) able to produce ID.
There are no discounts for groups or advanced ticket purchases.
Audio Guide

Fee

550 yen (includes tax)

Time

approx. 35 min

Languages

Japanese, English, Chinese, Korean

Rental Start Times

Tuesday - Thursday, Sunday: 9:00 a.m.-5:00 p.m.
Friday, Saturday: 9:00 a.m. - 7:30 p.m.
Catalogue

For availability and purchasing information, see Exhibition Catalogues and Related Publications
Organized by

Kyoto National Museum
Co-organized by

The Kyoto Shimbun Co., Ltd.
In Conjunction with

Kawachinagano City, Kawachinagano City Board of Education, Rekishi Kaido Promotional Council
Description of Exhibition
The modern city of Kawachinagano is located in Osaka prefecture, in what was once the southern part of Kawachi province. Surrounded by mountainous landscapes, the area long prospered as a stop for pilgrims traveling between Kyoto and the sacred sites of Mount Kōya. Much of this region's rich cultural and religious history can be attributed to its ancient temples Kanshin-ji and Kongō-ji, which have long served as important monastic centers of Shingon Esoteric Buddhism. During the years of divided imperial rule known as the Nanbokuchō period (1333–1392), these temples served as temporary palaces for Emperor Go-Murakami and were bases for the loyalist forces of the Southern Court. Today, fans of Japanese history are drawn to the temples for their connections with the heroic warrior Kusunoki Masashige (d. 1336).
Between 2016 and 2020, the Kyoto National Museum conducted extensive surveys inventorying the objects and artworks preserved in these two temples. This exhibition presents the results of this research to the public. It features a selection of long-admired masterpieces from Kanshin-ji and Kongō-ji alongside newly discovered temple treasures from the medieval and early modern periods.
Recently designated by the Agency of Cultural Affairs as a "Japan Heritage" site, Kawachinagano's surroundings are steeped in historical romance and intrigue and preserve many important artworks and cultural properties. It is our hope that this exhibition's focus on the region's richly layered history and religious culture will inspire you to visit and experience these remarkable temples for yourself.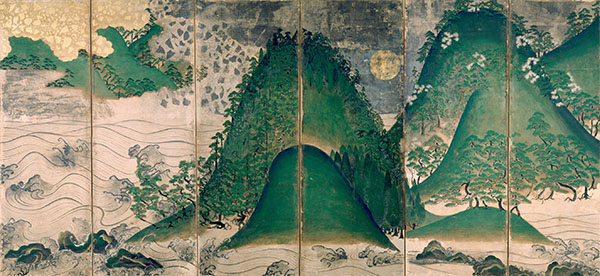 National Treasure
Sun and Moon Landscape of the Four Seasons (right screen)
Amanosan Kongō-ji Temple, Osaka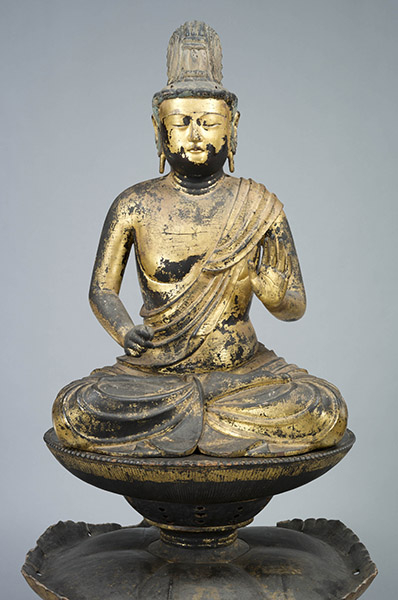 Important Cultural Property
Seated Buddha Traditionally Known as Hōshō (Ratnasambhava)
Kanshin-ji Temple, Osaka;
Photo by Kanai Morio, courtesy of Bijutsuin
Section 1. Temples of Shingon Esoteric Buddhist Practice
The temples Kanshin-ji and Kongō-ji trace their histories back to the Nara period (710–794), but no reliable records appear until the Heian period (794–1185). The beginnings of Kanshin-ji were largely shaped by the Buddhist priest Jichie (786–847) and his disciple Shinjō (797–873), both of whom were disciples of Kūkai (Kōbō Daishi, 774–835), founder of the Shingon school of Esoteric Buddhism. Under their administration, the temple received official state sponsorship. The ,Official Register and Inventory for Kanshin-ji, a ninth-century record of temple holdings, shows that many Buddhist statues at the temple today were already enshrined at this early date. Kongō-ji's history was greatly influenced by a priest from Mount Kōya named Akan (1136–1207), who took over administration of the temple in the twelfth century. Devotion to Akan among elite members of the community allowed him to fund the restoration of Kongō-ji's Main Hall (Kondō) and revive the temple as an important site for the study of Buddhist doctrine. A surviving portrait of Kūkai is thought to correspond to one that was enshrined by Akan in the temple's Image Hall (Mieidō).
As these two temples worked to expand and solidify their foundations as centers of Shingon Esoteric Buddhist practice with deep ties to the power brokers of Kyoto and the monasteries of Mount Kōya, they accumulated spectacular collections of Buddhist statuary, painting, ritual implements, and religious texts.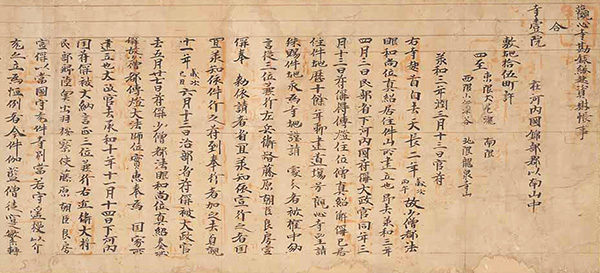 National Treasure
Official Register and Inventory for Kanshin-ji (J: Kanshin-ji kanroku engi shizaichō)
Kanshin-ji Temple, Osaka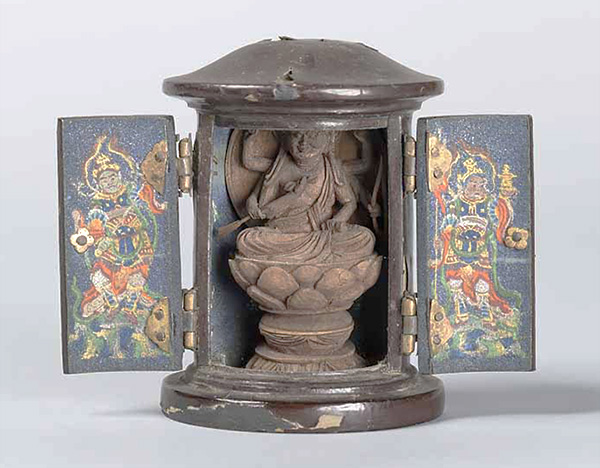 Seated Aizen Myōō (Skt: Rāgarāja) and Shrine
Amanosan Kongō-ji Temple, Osaka
Section 2. The Southern Court's Base of Power
The temples Kanshin-ji and Kongō-ji maintained close relations with the Southern Court during the political upheaval of divided imperial courts that defined the Nanbokuchō period (1333–1392). The village of Chihaya-Akasaka in Minamikawachi District was the birthplace of Kusunoki Masashige (d. 1336), a loyal warrior whose military efforts helped Emperor Go-Daigo (1288–1339) to overthrow the Kamakura shogunate. Masashige is believed to have studied at Kanshin-ji in his youth and to have headed a band of warriors in the area. After establishing his Southern Court in Yoshino, Go-Daigo entrusted his son, Emperor Go-Murakami (1328–1368), with the fulfillment of his wish to reclaim Kyoto. After being driven back by Northern Court forces under the command of Ashikaga Takauji, Go-Murakami set up a temporary palace at the refectory and Mani'in Hall of Kongō-ji and later at Kanshin-ji. Documents issued from the Southern Court, Buddhist images, musical instruments, and other objects related to Emperor Go-Murakami tell the history of these bitter struggles and hardships. The many suits of armor said to have been worn or dedicated by Kusunoki Masashige and his clan retain an aura of reverence that has characterized the historical memory of this region's legendary samurai.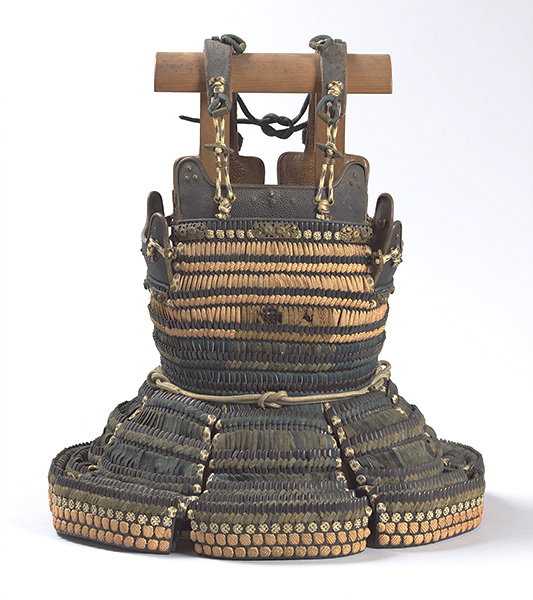 Important Cultural Property
Haramaki Armor
Kanshin-ji Temple, Osaka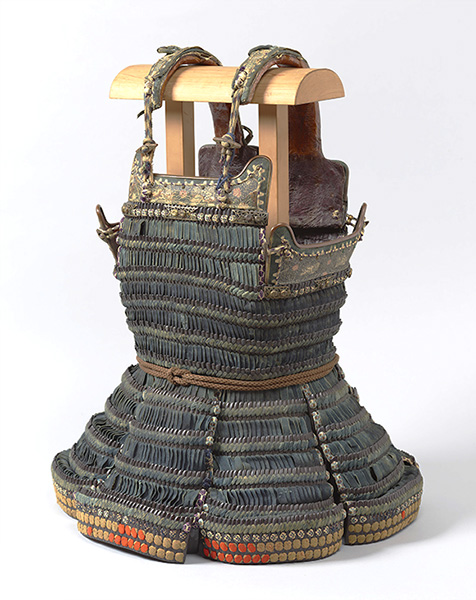 Important Cultural Property
Haramaki Armor and Hizayoroi Thigh Guards
Amanosan Kongō-ji Temple, Osaka
Section 3. Sacred Sites of Kawachinagano
In the Muromachi period (1392–1573), Kanshin-ji and Kongō-ji thrived under the protection of the Hatakeyama clan, newly designated military governors of Kawachi province. As Japan entered a turbulent age of prolonged warfare, the region surrounding the two temples was fortunate to have escaped extensive harm. This area in fact came to witness a great bourgeoning in the production of goods, including the famous sake brewed at Kongō-ji, which was favored by Japan's powerful hegemons. Under these relatively stable conditions, large-scale reconstruction projects sponsored by Toyotomi Hideyori (1593–1615) were initiated and continued to be carried out periodically into the modern period. There is also reason to believe that the temple frequently conducted rituals and the maintenance of ritual implements during this time. The large quantities of cultural properties with known dates of production or donation paint a picture of the temples as major religious sites that were worshiped widely, partly owing to the development of the Kōya Highway and other regional transportation networks. Today, Kanshin-ji and Kongō-ji continue to play indispensable roles as spiritual centers in the religious lives of the region's local residents.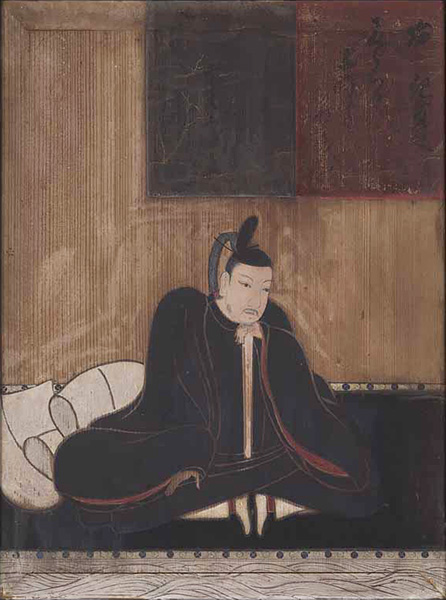 Thirty-Six Immortal Poets
Painting by Kano Sanraku. Inscription by Shōkōin Dōryū
Amanosan Kongō-ji Temple, Osaka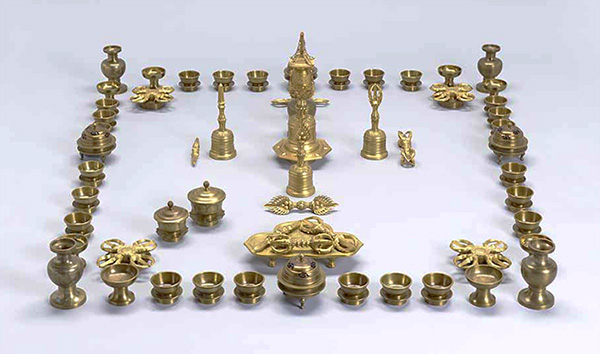 Esoteric Ritual Altar Implements
Kanshin-ji Temple, Osaka