Water Fountain Garden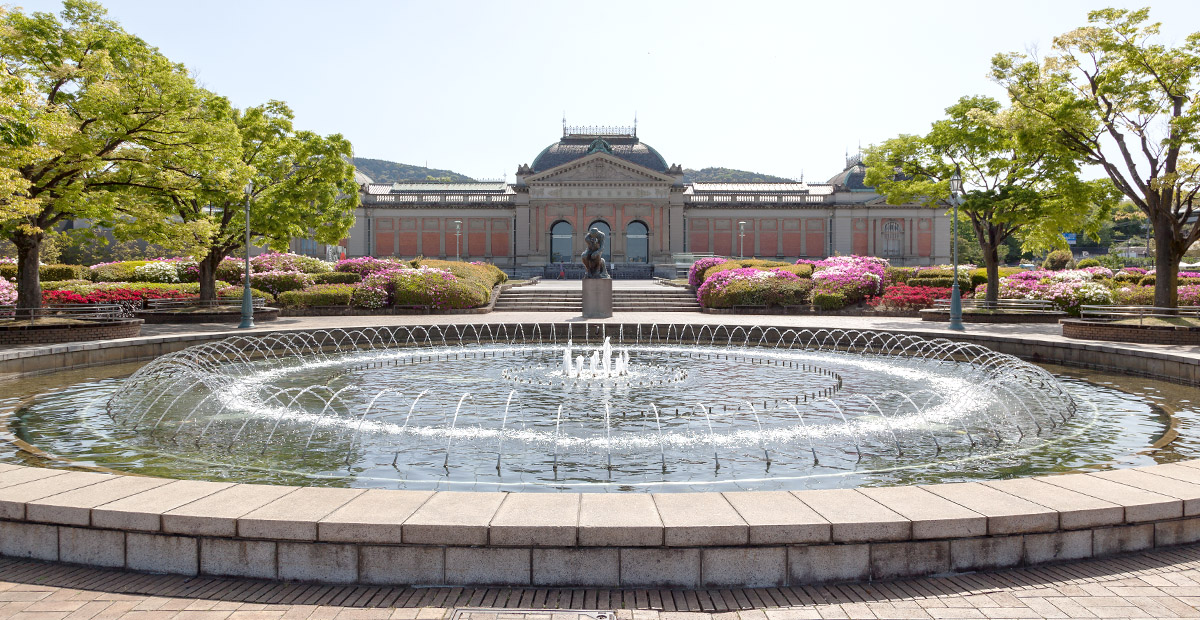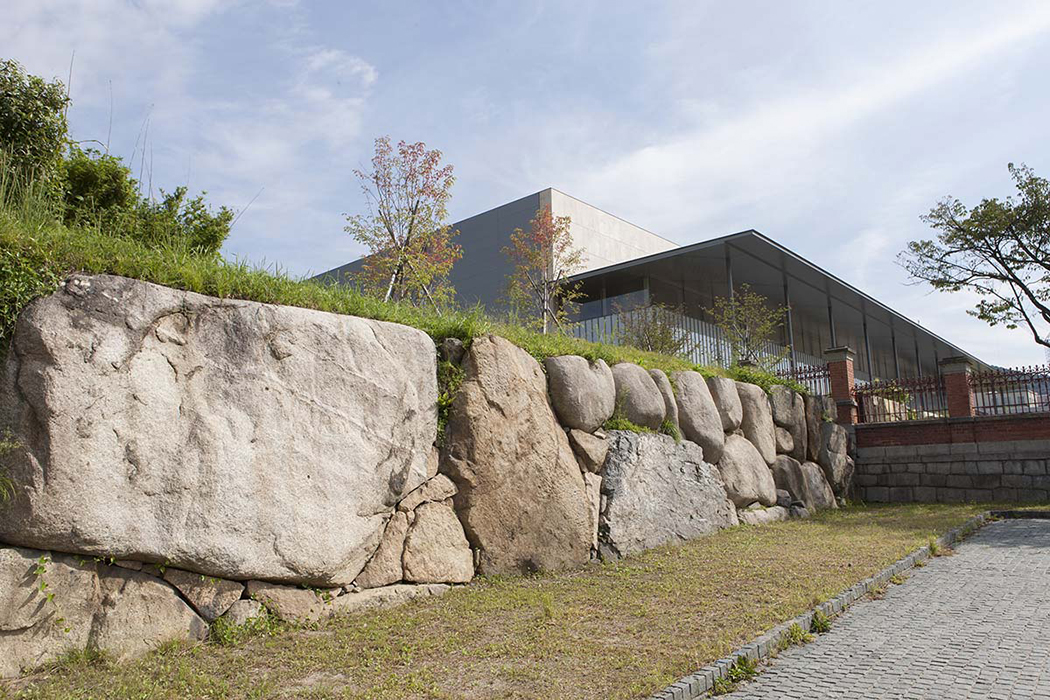 Hōkō-ji Temple Stonewall
National Historical Site
The warlord Toyotomi Hideyoshi (1536-1598) built this stonewall for Hōkō-ji Temple on the grounds where the Kyoto National Museum now stands. Constructed in Tensho 16 (1588), this stone structure once had a tile-roofed mud wall standing upon it. When Hideyoshi's son Hideyori (1593-1615) later rebuilt the temple, the tile-roofed mud wall was replaced with a covered corridor. The traces of this former wall's pillar bases can still be seen in the southwest corner.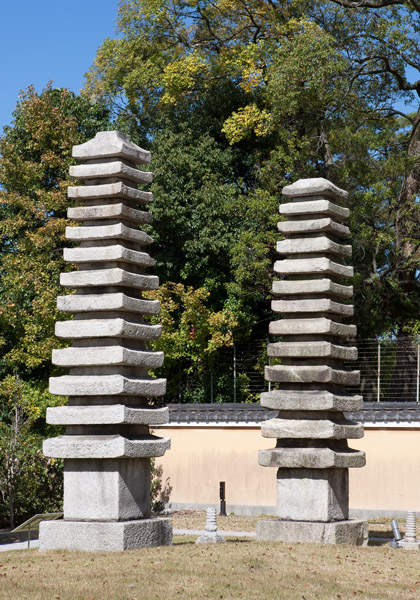 Thirteen-Story Pagodas

South pagoda inscription dated 1295
Stone
Provenance: Uma-machi, Kyoto
Kamakura period, 13th c.
These two stone pagodas were originally located approximately 500 meters northeast of this location in Uma-machi. They stood atop a mound and are believed to have marked the graves of the brothers Satō Tsugunobu and Satō Tadanobu, two vassals of the famous warrior Minamoto no Yoshitsune (1159-1189). As shown in Illustrated Guide to Famous Places in Kyoto (Miyako meisho zue) a popular publication from the Edo period (1615-1868), the northern and southern pagodas were composed of five and three stories, respectively. The stones on the upper stories, which are believed to have fallen during an earthquake, were left as retaining walls for the mound.
The thirteen-story pagodas were restored to their current forms during repairs in 1940. At that time, small Buddhist sculptures and miniature pagodas were found interred inside a cavity in the first story of each pagoda.
Because the finial rings were later replacements, they were removed when the pagodas were relocated.
The stone used for the pagodas is granite. The south pagoda has an inscription reading "Second month of 1295 (Einin 2), sponsored by Hōsai." There is no inscription on the north pagoda. Further details regarding the circumstances surrounding their construction are not known.
West Garden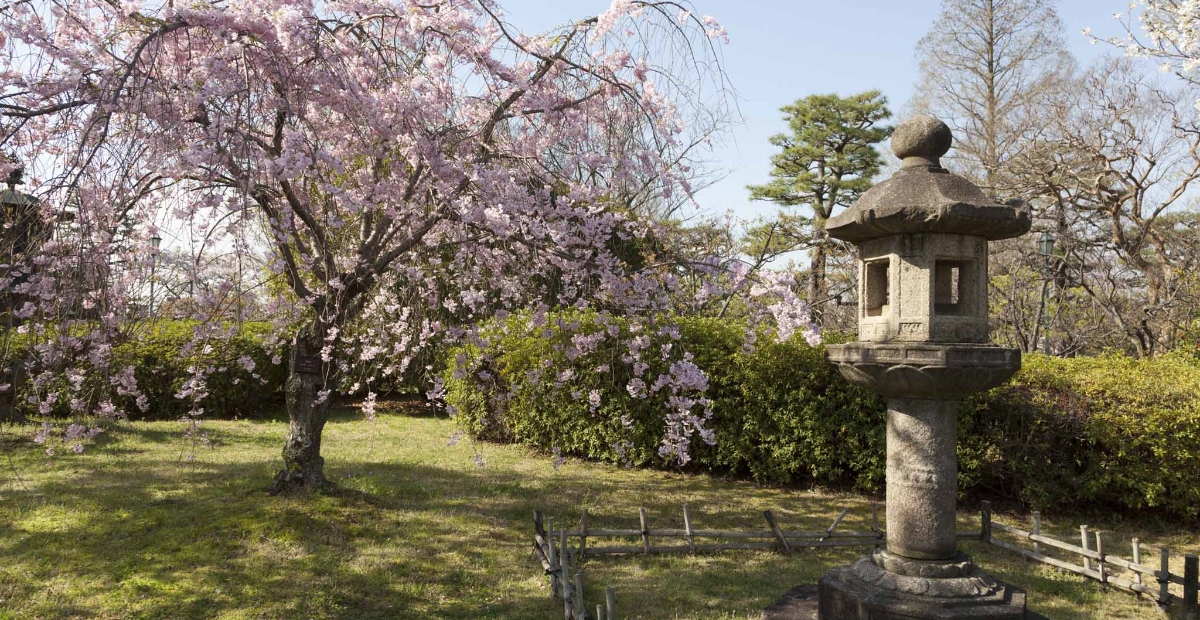 Early stone buddhas, foundation stones, and bridge posts can be found in the West Garden, located in the southwest corner of museum grounds. View this outdoor exhibit, while taking a short walk or break.
East Garden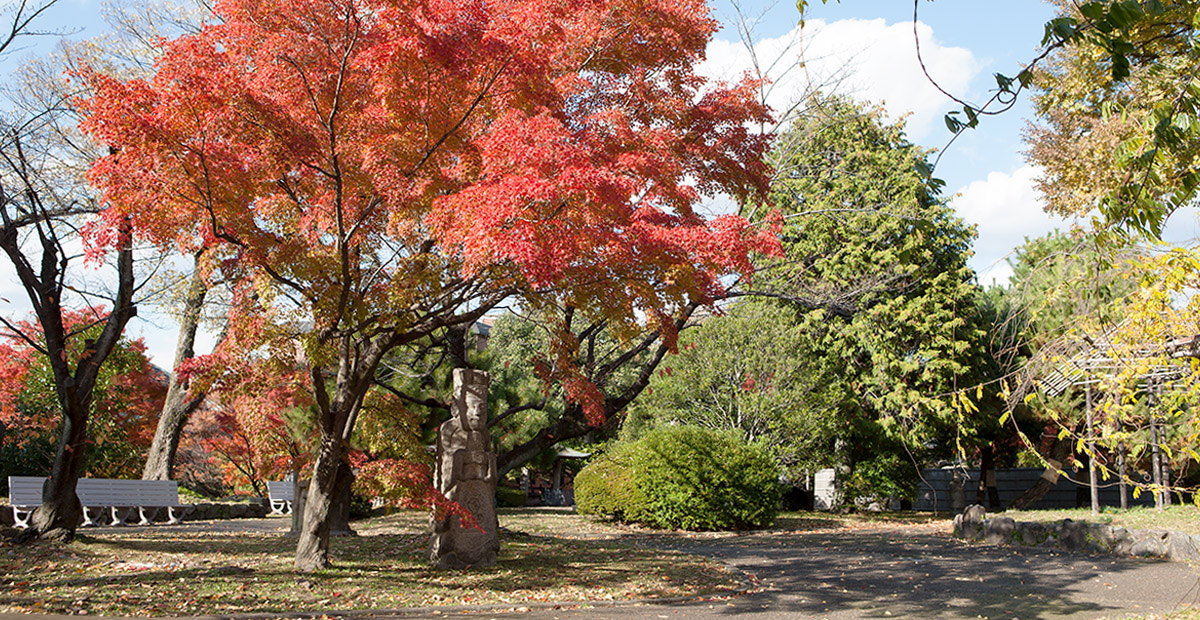 The East Garden is located on a sloping hilltop in the southeastern corner of the museum grounds. It is a garden of stone sculptures from the Korean Peninsula. After a visit to the exhibition halls, enjoy a peaceful stroll through this little hidden oasis.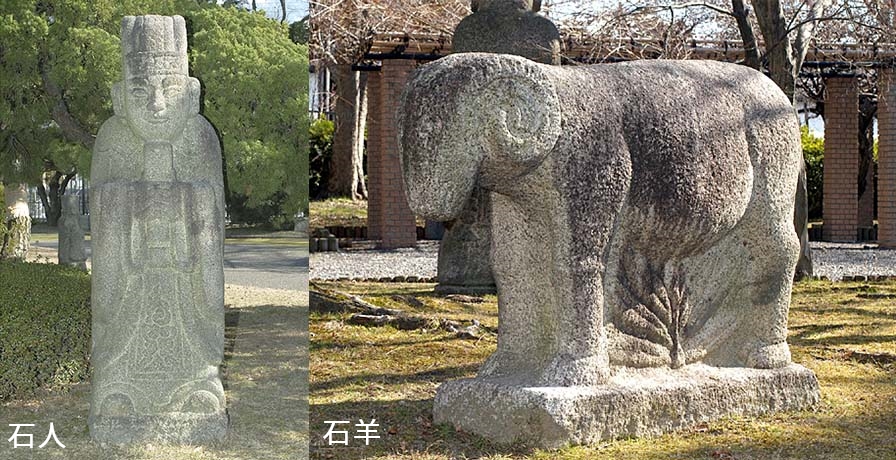 Tomb Figurines
Thirteen Human Figures, Pair of Sheep, Two Lanterns, Fives Stands, Eight Square Bases, Two Pairs of Columns
Korea, Joseon dynasty (1392-1897)
Gift of Yamamoto Aya
Kyoto National Museum
From ancient times, the tombs of powerful figures were adorned with stone figurines on the Korean Peninsula and China. These sculptures were made in Korea during the Joseon dynasty (1392-1897).
Facilities