Special Exhibition Tōfuku-ji: Monumental Zen Temple of Kyoto
General Information
Exhibition Title

Special Exhibition
Tōfuku-ji: Monumental Zen Temple of Kyoto
Period

October 7–December 3, 2023
The exhibition has two installations:
Part I: October 7–November 5, 2023
Part II: November 7–December 3, 2023
Some artworks may be rotated during the exhibition period.
Venue

Kyoto National Museum, Heisei Chishinkan Wing
Closed

Mondays
*The museum will be open on Monday, October 9, and closed on Tuesday, October 10, 2023.
Special Exhibition Hours

9:00 a.m.–5:30 p.m. (Entrance until 5:00 p.m.)
Special Exhibition Admission

Adult
1,800 yen
(1,600 yen)
University Student
1,200 yen
(1,000 yen)
High School Student
700 yen
(500 yen)

The discounted prices in parentheses ( ) are advance ticket and group ticket rates.
Advance tickets will be on sale between August 21 and October 6th at major ticket outlets and other locations.
See the official exhibition website (in Japanese only) for information about advance and discount advance tickets.
Group ticket rates apply to groups of 20 people or more.
Please show student ID for student admission.
Admission is free for junior high school students and other youths age 0–15, visitors with disabilities and one caretaker. Please show ID.
Admission is reduced by 500 yen for Campus Members (including faculty) able to produce ID.
Audio Guide

Venue Rental Edition

Fee

650 yen (includes tax)

Duration

approx. 40 min

Languages

Japanese, English

Rental Hours

9:00 a.m.-5:00 p.m. (Return by 5:30 p.m.)

App Edition

Fee

800 yen (includes tax)

Languages

Japanese

Period of Availability

March 8–December 15, 2023 (planned)

*For more information, please visit the exhibition's official website (in Japanese only).
Catalogue

For availability and purchasing information, see Exhibition Catalogues and Related Publications
Organized by

Kyoto National Museum; Tofukuji Temple; The Yomiuri Shimbun; NHK (Japan Broadcasting Station) Kyoto; NHK Enterprises, Inc. Osaka Branch Office
With the support of

Iwatani Corporation; Kinden Corporation; Daiwa House Industry Co., Ltd.; Non-Destructive Inspection Co., Ltd.
With the cooperation of

Live Art Books
In conjunction with

Kyoto Chamber of Commerce and Industry
Special Exhibition Official Website
Description of Exhibition
Tōfuku-ji is one of the most important and influential Zen temples in Kyoto. Founded in the Kamakura period (1185–1333) by the eminent Buddhist monk Enni (Shōichi Kokushi) after his return from study in China, the temple was named by combining characters from the largest Nara temples Tōdai-ji and Kōfuku-ji to assure that the new temple would achieve the grandeur for which it would become famous. As one of Japan's foremost Zen temples, Tōfuku-ji's monumental medieval architecture has long housed a vast collection of artworks and cultural objects. This exhibition brings together enormous Buddhist statues and exceptional works of painting and calligraphy to tell the story of the temple's history and culture. In particular, The Five Hundred Arhats paintings by the "painter-saint" Minchō will be exhibited for the first time since their conservation and are a must see.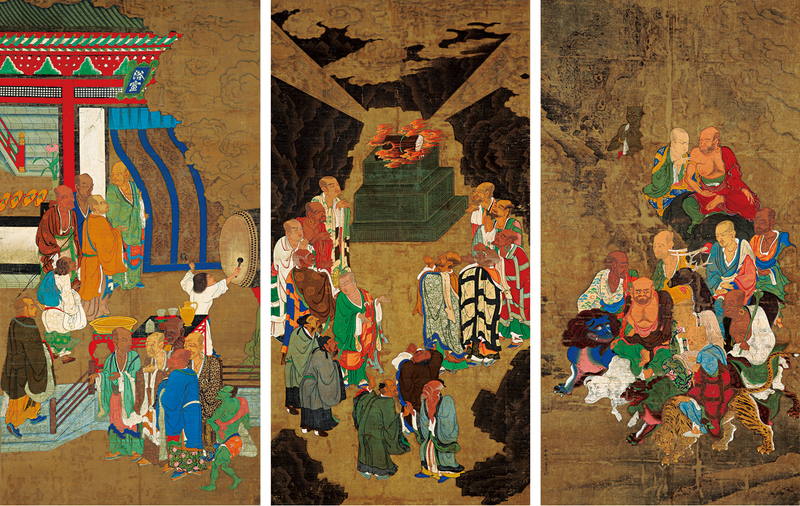 Important Cultural Property
The Five Hundred Arhats
By Minchō
Tōfuku-ji, Kyoto
(center) Scroll No. 1 [on view Oct. 7–22, 2023]
(right) Scroll No. 20 [on view Oct. 24–Nov. 5, 2023]
(Left) Scroll No. 40 [on view Nov. 21–Dec. 3, 2023]