Extended Evening Hours: Fridays, January 2 to March 24, 2024
Information
Extended Evening Hours: Fridays, January 2 to March 24, 2024
The Kyoto National Museum will remain open until 7 p.m. every Friday during the period of the Winter Collection Exhibition (January 2–March 24, 2024). The museum gardens will also be illuminated during this time. Please enjoy a relaxing evening at the exhibition.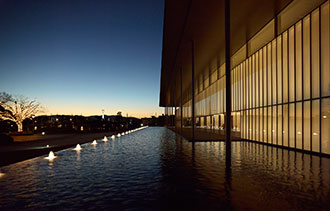 Days with Extended Evening Hours:
Fridays, January 2–March 24, 2024
Museum Hours:
Fridays, 9:30 a.m.–7:00 p.m. (admission until 6:30 p.m.)
*Admission fees remain the same.
Admission
Audio guide, museum shop, museum café, etc:
The rental time for audio guides will be extended to 6:30 p.m. (30 minutes before closing)
Museum Shop Benrido and Café Maeda Coffee will be open until 7:00 p.m.
Related Sites:
Posted: November 13, 2023