Feature Exhibition Celebrating the Japanese Doll Festival: Kokin bina Dolls from Edo and Kansai
General Information
Exhibition Title

Feature Exhibition
Celebrating the Japanese Doll Festival: Kokin bina Dolls from Edo and Kansai
Period

February 10–March 24, 2024
Venue

Heisei Chishinkan Wing, Gallery 1F-2
Closed

Mondays
*The museum will be open on Monday, February 12, and closed on Tuesday, February 13, 2024.
Museum Hours

9:30 a.m.–5:00 p.m. (Entrance Until 4:30 p.m.)
Admission

Adult
700 yen
University Student
(ID required)
350 yen

Admission fee includes admission to all galleries in the Heisei Chishinkan Wing.
Admission is free for high school students and other youths age 0 – 17, seniors over 70, visitors with disabilities and one caretaker, and for Campus Members (including faculty). Please show ID.
Admission for school groups: Admission to the Collection Galleries is free for elementary school, middle school, and high school students on school fieldtrips as well as teachers serving as their guides.
Description of Exhibition
The Kyoto National Museum's annual exhibition of Japanese dolls displayed for the Doll Festival (Hina Matsuri) features a variety of Kyoto dolls as well as the lavish palace structures they were often displayed on in the Kansai region. This year's exhibition will focus in particular on Kokin bina, the precursor of today's hina dolls, and will look at how their popularity spread from Edo (Tokyo) to Kyoto and Osaka.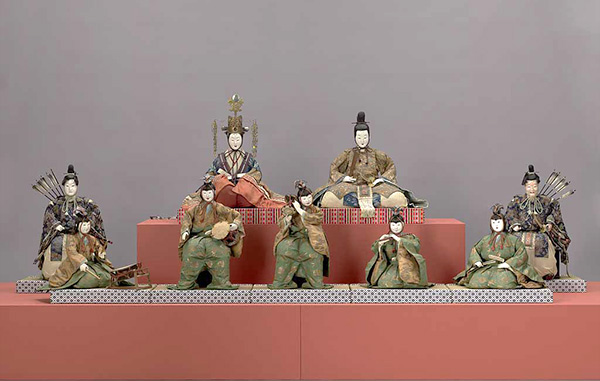 Kokin bina
Kyoto National Museum