Feature Exhibition: The Enshrinement of Bronzes in the Yayoi Period
General Information
Exhibition Title

Feature Exhibition: The Enshrinement of Bronzes in the Yayoi Period
Period

January 2–February 4, 2024
Venue

Heisei Chishinkan Wing, Gallery 1F-2
Closed

Mondays
*The museum will be open on Monday, January 8, and closed on Tuesday, January 9, 2024.
Museum Hours

9:30 a.m.–5:00 p.m. (Entrance Until 4:30 p.m.)
Admission

Adult
700 yen
University Student
(ID required)
350 yen

Admission fee includes admission to all galleries in the Heisei Chishinkan Wing.
Admission is free for high school students and other youths age 0 – 17, seniors over 70, visitors with disabilities and one caretaker, and for Campus Members (including faculty). Please show ID.
Admission for school groups: Admission to the Collection Galleries is free for elementary school, middle school, and high school students on school fieldtrips as well as teachers serving as their guides.
Description of Exhibition
The technology needed to work with iron and bronze was introduced to the Japanese archipelago almost simultaneously during the Yayoi period (ca. 5th c. BCE–ca. 3rd c. CE). While iron was mainly used for functional purposes such as tools, bronze was reserved for ritual objects. Yayoi culture developed a wide range of bronze bells, swords, spears, axes, and other ritual wares, which are predominantly found in the Kinki and Kyushu regions. This exhibition focuses on the ritual enshrinement and worship of bronze objects, tracing the development of the distinctive bronze culture of the Yayoi period.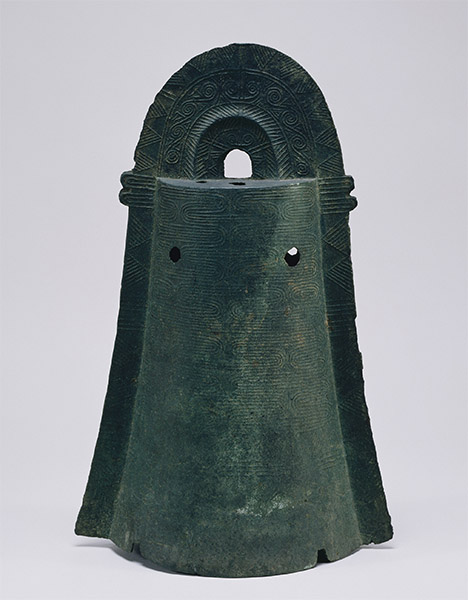 Important Art Object
Dōtaku Ritual Bell with Flowing Water Design
Kyoto National Museum