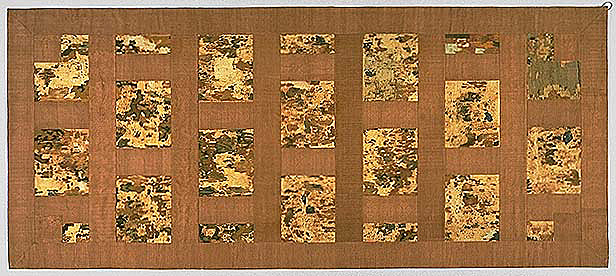 Full Enlargement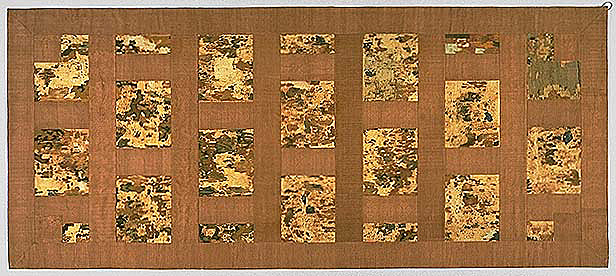 kesa
Textiles and Costume
Kenda Kokushi Kesa
Silk tapestry
Proportions: 116.8 x 237.0 cm
Tang Dynasty (8th Century)
National Treasure
(Kyo'ogokoku-ji Temple, Kyoto)
This Buddhist kesa (a Buddhist priest's cassock) was reportedly given to the Japanese priest Kukai by a Chinese priest named Huiquo during the Tang Dynasty, when Kukai was studying in China. It is registered in the Goshorai Mokuroku, a list of objects that Kukai brought back to Japan. Kenda is said to indicate the yellowish-red color used for the robe, and kokushi means "tapestry weave."
The central denso part of the robe uses silk threads in approximately ten different colors, including purple, moegi (bluish-yellow), yellow, and indigo, to create a tapestry-weave pattern of clouds. Some sections appear to have supplementary purple embroidery, but closer examination reveals that these too are woven techniques.
These cloud and purple stitching patterns were created to resemble the stains of funzo-e robes, the original kesa stitched together from rags. This kesa elaborately imitates those symbolic robes of poverty in high-quality silk tapestry.